About Online Giving
Many people have asked about Online Giving and while it may not be for everyone, we have made it available for those who choose to utilize it. We have partnered with PayPal so that this process is secure and safe. When giving online you will be redirected to the church's PayPal account: Arthur Mennonite Church.
Is there any charge for this service?
There is no fee for you to use this service. You select the dollar amount and that is what will be applied to your debit or credit card. The church pays a nominal fee to PayPal for the convenience and security of the service.
Do you need a PayPal account?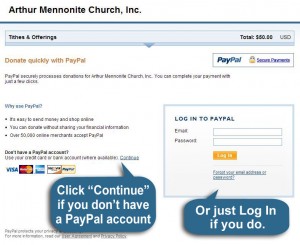 No. You may use your credit or debit card without having a PayPal account. After you enter the amount you want to give and select the "Give Online" button you will select the "Continue" link at the bottom left of the checkout window. If you do have a Paypal account simply log in using your email address and PayPal password.
Where will your money go?
To start, Online Giving will be applied to the General Fund only. In the future and as specific giving projects arise we may add those projects as online giving options as well.