Christian Education
We believe that Christian Education time every Sunday morning is an essential part of growing and learning about Jesus. Each week there are several classes that begin at 9:30. Current classes include:
Primary Department (Ages 2-5 and Grades 1-5)
Meets in the West Basement
Jr. High (Grades 6-8)
Meets at the Youth House
Youth (Grades 9-12)
Meets at the Youth House
Adult Classes:
Quarterly Lesson Plan – Meets in the Fellowship Hall
Current Events Bible Study – Meets in Room 5
"Explore the Bible" Bible Study – Meets in Room 1
Youth
AMC Youth includes grades 9-12 and meets Sunday mornings during Christian Education time as well as some Wednesday evenings. The purpose of the AMC youth program is to expose youth to God's love, to provide opportunities to share God's love with others and to interact with each other as a faith community. The youth attend a national convention on a bi-yearly basis and on off years take mission service trips to various locations. To learn more about our youth, visit their website at
www.amcyouth.org
.
Jr. High
The AMC Jr. High group includes grades 6-8 and meets Sunday mornings during Christian Education time at the Youth House. They also meet bi-monthly for fellowship activities and sometimes join the High School youth for various activities and area youth gatherings within our conference.
Life Groups

Throughout the year Life Groups form at AMC for the purpose of strengthening our bonds as a congregation while exploring a common interest. New Life Groups will be forming soon. Watch the weekly bulletin and join a group!
Vacation Bible School
Each summer AMC joins with other area churches
to host a community wide vacation bible school. The 2021 theme will be "Knights of the North Castle" which will help children learn how to take up the full Armor of God. Bible school is open to all children ages 4 through 12 grade. For more information about bible school please visit the
VBS website.
Community Services
Several times a year AMC joins other churches in the community for special worship services focused around praising God through music. The service location rotates among the participating churches. Additional community services include Good Friday, Easter Sunrise, and Thanksgiving.
Ark Playground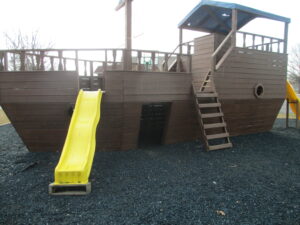 In 2006 AMC built the Ark Playground located on the AMC grounds. The ark was built by AMC members for the children of our congregation as well as the entire community. Want to know how the ark came to be at AMC? Click here!