Read: Philippians 4:10-20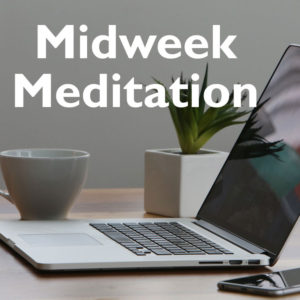 First it was Black Friday, then it was Cyber Monday, then came Giving Tuesday. I am worried about Wednesday and Thursday feeling left out. How about we give the attitude of contentment to Wednesday? I am not opposed to any of these other days even though I really don't observe them much.
I do most of my Christmas gift shopping on my own time, usually the week before Christmas. I spread out my giving to church, other people, and organizations throughout the year, even though I think it's a great idea to have a "Giving Tuesday" after a "Black Friday." But all of these specific days made me think about what Paul says in the book of Philippians.
Paul writes, "I have learned to be content whatever the circumstances…. I have learned the secret of being content in any and every situation." What a great reminder as we head into this season of gifts, giving, and busyness. Can we find time and space to be content? How about starting today and calling this "Contentment Wednesday?" How about carrying that attitude throughout the month of December and into 2017?
Alison Stewart, a former reporter and news anchor, spent three years investigating America's unhealthy obsession with stuff. Her book, "Junk: Digging Through America's Love Affair With Stuff," examines the private lives and profitable businesses associated with our craving for consumer goods. Stewart explains that junk business is big business…
"Self-storage has its own association and lobbying group because it is big business, generating more than $24 billion in revenues in 2014. The United States is home to reportedly 48,500 to 52,000 self-storage units. That's about 2.3 billion square feet of storage. It is a business that has been called recession resistant by the Wall Street Journal."
Reality TV shows focusing on junk took off in the early 2000's. Stewart put together a list of such shows broadcast between 2003 and the end of 2015. She writes: "The real tension that exists between the desire to buy and own, positioned against the stress created by the acquisitions, makes perfect sense for non-scripted television." Here's a partial list of stuff-based reality TV shows: American Pickers, Auction Hunters, Auction Kings, Buried Treasure, Flea Market Flip, Hoarders, Junk Gypsies, Junkyard Wars, Pawn Stars, Picker Sisters, Storage Wars, and its spinoff Storage War Texas.
Those shows can be very interesting but they also give evidence of how much junk we can accumulate if we are not careful. Contentment does not mean that we are against gift giving or blessing other people. It is good to have a giving spirit and bless others. As Christmas comes this year let us embrace the season with a spirit of contentment and joy "in any and every situation" as Paul encourages in Philippians 4:12.
Make it personal: When and if stress tries to overtake you during this Christmas season try to find ways to bring calm, peace, and contentment to your life. Put on some Christmas music, light some candles, relax, watch a classic Christmas program and think about the reasons that we celebrate this time of year. Find ways to be content whatever the circumstances.
Have a content week, Glen Rhodes, Arthur Mennonite Church