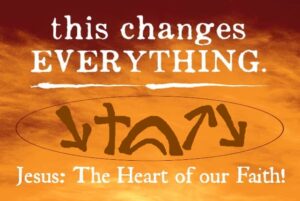 Our 2021 Lent Theme will focus on Jesus: The Heart of our Faith!
The symbols represent: 1. Jesus came (arrow down)
2. Jesus dying on the cross from our sins (cross)
3. Jesus rising from the grave (tomb)
4. Jesus ascending to heaven (arrow up)
5. Jesus coming back again (arrow down)
Join us each Sunday for the following messages: A Changed Heart, A Compassionate Heart, A Following Heart, An Honest Heart, A Hope-filled Heart, A Worshiping Heart – Palm Sunday, & A Rejoicing Heart – Easter Sunday.